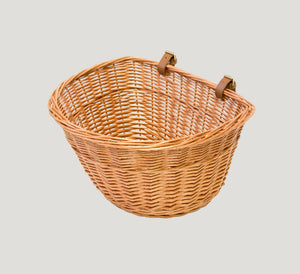 Pashley Front Wicker Basket
Sale price Price £40.00 Regular price Unit price / per
Tax included.
This traditional large hand-woven wicker basket is just the right size for shopping, picnics - even a small dog! A practical addition to the front of your bike, it is supplied with two buckled leather straps that secure easily to the handlebars.
Please note we are currently unable to supply the Pashley support with this basket. This listing is for the basket with leather straps only.
Size & Fit
Large: H=29cm, L=23cm(base) / 39cm(top), W=27cm(base) / 44cm(top).
From the Pashley range this basket can be fitted to the Pashley Princess, Sonnet or Britannia.